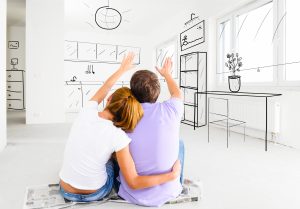 Building a home from the ground up is exciting. It's an opportunity to build your dream home. A home where you have chosen everything from the floor plan to the paint on the walls. At the same time, all of these choices can seem overwhelming. Where do you start? Here are some tips that will help you design the home of your dreams.
Choose Your Builder
Not all builders are created equal and most vary in the types of floor plans, standard features, pricing and architectural flourishes they offer. In Amira, builders Beazer Homes and Perry Homes have sterling reputations — but there are differences. Visit the builders' model homes for a 3D look. Talk to sales representatives to see if the available floor plans, structural options and upgrades will fit your lifestyle.
Choose Your Floor Plan
Builders offer more than one floor plan in a community. Choosing one depends on your lifestyle and budget. Keep in mind that floor plans are not set in stone. Beazer offers Choice Plans™, which allow you to personalize your living space at no extra charge. For example, you can change a secondary bedroom to a study or craft a kitchen suited for entertaining. Other builders offer many of these same options but charge extra for them.
What Do You Need?
It's not always easy to imagine what your actual home will look like from a floor plan, but you can make choices based on your needs. Buyers who like to entertain may prefer a large living area open to the kitchen. Buyers who enjoy family time may rather a home that includes both game and media rooms. Love the outdoors? You are going to want an expansive covered patio.
A Visit to the Design Center
Personalization of your home happens at the design center. Here you will pick out your flooring, cabinets and paint colors, upgrade your appliances, add a standalone tub to your primary bath or a wet bar to your game room. Beazer and Perry maintain large design centers staffed by interior design experts. They can help you craft a home that fits your design ethos. To make the most of your trip, create a Pinterest board with your desired décor features. Build a wish list that includes must-haves and nice-to-haves. Prepare a budget ahead of time. Once you get there, describe your lifestyle. Take your time. You will likely be living with that tile and countertop for many years, so you want to get it right the first time.
Work With Your Builder
The most important thing to remember when designing your dream home is to work with your builder. Builders want happy homeowners and will take the time to ensure that you love every part of your home. Don't believe us? Visit the Beazer and Perry model homes in Amira. You'll see how easy it is to build the perfect home.