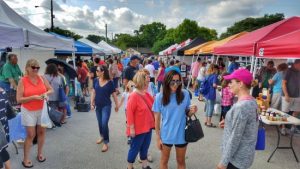 If you've got a hankering for fruits and vegetables fresh from the farm, the Tomball Farmers Market is the perfect place to spend your Saturday mornings.
Located at 205 W. Main St. on the corner of Main Street (FM 2920) and Walnut Street in Downtown Tomball, the market has been providing families with farm-fresh produce, cottage foods and artisanal goods for 13 years.
One thing that differentiates Tomball's farmers market from others is that it was started by two young mothers who wanted to not only feed their families healthier foods but feed the surrounding community, as well. Traveling to other markets was inconvenient, so the mothers held a meeting and asked Tomball residents if they would support a local farmers market. The first market was held in June 2008 and it's been going strong ever since.
The market is open every Saturday, rain or shine, from 9 a.m. to 1 p.m. Vendors come from all over. On any given Saturday you might be able to harvest fresh produce from Rain Song Farm, Angie's Garden, Stump Farms and many others. 3 Sisters Farm offers up fresh eggs as well as pasteurized, sustainably produced meats. Love baked goods? Buff's Bagel & Bakery, Flour House Bakers and J's Baking Studio offer up delectable items. You can find a full list of participating vendors here.
If you are planning to visit, remember to stop at the ATM as not all vendors take credit cards. Bring a wagon or stroller to carry your kids and a few extra goodies. If you'd like to shop and then explore Downtown Tomball (which we highly recommend), bring a cooler to store your produce and meats.
Remember shopping at your local farmers market is good for you, the local economy and the environment. It's also fun and a great way to connect with other members of the community. Amira residents love it so we know you will, too.