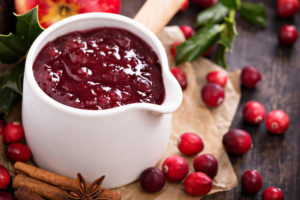 Noticing a lack of canned cranberry sauce at your local grocery store? You aren't alone. A labor shortage, supply chain issues and more have conspired to make our favorite turkey side dish a little hard to find. Not to worry, making your own cranberry sauce is quick, easy and fun. Once you've made it, you may never go back to canned sauce again.
Basic Cranberry Sauce
Cranberry sauce at its heart is just fresh cranberries, sugar, a little water and orange peel. Food Network's Perfect Cranberry Sauce takes less than 30 minutes from start to finish. Bon Appetit shows you how to up your game by making a few simple changes.
Add Some Spirit
Replace the water with some spirited alternatives. Leslie Sutherland's Grandma Erma's Spirited Cranberry Sauce kicks it up a notch with port and orange liqueur. Cooking Light offers up a healthier version of our favorite sauce flavored with Grand Marnier. Combine your favorite cocktail with cranberries for a Cosmopolitan Cranberry Sauce.
More Fruit!
There's no reason your cranberry sauce should be limited to cranberries. Change things up by adding additional seasonal fruits. Southern Living devised this delicious apple-cranberry sauce that makes enough for guests to take home. Rachael Ray adds pears and pistachios for a yummy twist. Need more berries? Try Ree Drummond's Very Berry Cranberry Sauce.
Serve Up Salsa
Spice up your holidays and your turkey with cranberry salsa instead of sauce. Jalapenos bring the heat in this Southern Living take. This New York Time's version combines the tart fruit with lime and tequila. Melissa D'arabian adds color and flavor with cilantro, bell peppers and onion in her cranberry salsa.
And for Something Completely Different
Chutneys are slow-cooked fruits or vegetables, vinegar and spices originating from India. You can create numerous cranberry chutneys to add international flare to your Thanksgiving feast. Mary Catherine and Drew Curren use pecans, apricots, ginger and red pepper in their flavorful chutney. A little spice and everything nice go into Southern Living's spicy cranberry and orange recipe. Balsamic vinegar adds complexity to this Food & Wine chutney.