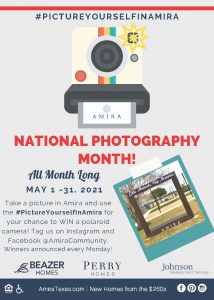 If you've ever pictured yourself living in Amira, why not go ahead and take a picture of yourself in Amira. Do so and you could win a camera!
We're celebrating National Photography Month in our community throughout the month of May. As part of that, we're asking everyone to come, take pictures of themselves and tag us on Instagram and/or Facebook @AmiraCommunity and use the hashtag #PictureYourselfInAmira. Each week, we'll take a look at the photos and choose a winner who will receive an Instax Polaroid Camera pack with film!
Winners will be announced every Monday. There will be four winners in all.
Where in Amira should you take your photo? Anywhere! We encourage you to get creative and have fun. Our well-appointed model homes make a beautiful backdrop, but it would be even more fun to snap a photo of you pretending to cook in the kitchen. Bring some friends or family with you and take photos of you hanging out on the back patio of your favorite model.
As you tour our gorgeous community, you are sure to see many photo-worthy places. One of our favorite spots is The Resort at Amira. With our gorgeous pool, 7,000-square-foot clubhouse and lake views, friends will think you've found a hidden vacation destination. If Fido is along for the ride, you could take a picture of him looking longingly at the other dogs playing inside Derby Dog Park as he pictures himself living the Amira life.
It's your choice. We just want to see how you picture yourself living in our community! Ready to shoot? Grab your camera and get out here today.