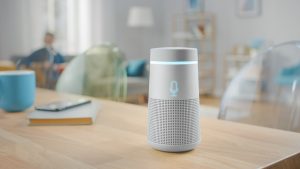 From video doorbells to smart thermostats, many of today's homes — including those built in Amira — include smart home technology. All of it can be run from your smart phone or tablet but the most convenient solution is to just "ask Alexa." The voice behind your Amazon Dot, Echo, or Show, Alexa allows you to control your smart technology with voice commands.
New to Alexa? Here are some tips that will have you saying "hello" in no time. If you like what you read visit us during the Smart Living Home Tour at Amira. You can tour seven beautiful model homes and register for a chance to win one of six hi-tech home devices including an Amazon Show, Dot and Echo.
What is Alexa?
The name Alexa is used interchangeably with Amazon's Echo, Dot, Show and Fire products but, really, it's the name of Amazon's cloud-based artificial intelligence (AI) voice service. It can also be found on third-part devices, as well as smart phones and tablets.
What Can Alexa Do?
Alexa can do a lot of things, including running your home automation system, playing music, keeping track of your shopping list, reading audio books and answering questions. You can also use "skills" to do everything from ordering a pizza to opening your blinds and brewing your coffee in the morning.
Saying 'Hello' to Alexa
Setting up Alexa is easy. Plug in your Dot, Echo or Show. As soon as you do, you will see an orange glowing light. This means your device is ready to pair with your phone. Download the Alexa app to your smart phone. Once you've done that, it will prompt you to turn on your Bluetooth and choose your Amazon device from the selections offered. Once you have paired your device with your phone, the app will show you an introductory video. That's it!
Customize Alexa
There are many ways to customize Alexa, all of which you can do through the app or just by asking Alexa to help you. Some things you may want to do include setting up your default music service (Amazon Music, Spotify, etc.), link Alexa to your calendar and email and connect your smart home devices.
Connect Your Smart Home Devices
Connecting your smart home technology is easy. Alexa supports Nest, Control4, SmartThings, Philips Hue lights, Lutron, Insteon and more. As a general rule, the manufacturers have set up "skills" that can be paired with your device. To do so, simply open the Alexa app on your phone and go to "Skills." Find your device and click on "settings" to add your device and learn the voice command that will start it.
Set Up a Routine
Routines are shortcuts that allow you to group together a bunch of actions under one voice command. For example, you could say "Alexa, good morning" a command that will turn on the lights, start your coffee maker and have Alexa tell you what today's traffic is like. Some routines have already been set up. You just have to click on them in the Alexa app.
Set Up Voice Purchasing
You can use Alexa to purchase products from Amazon. Simply say "Alexa I would like to buy X" and she will tell you what she has found and how much it costs. You can then tell her to buy it. To keep little voices from ordering their favorite candy, be sure to turn on the Voice Code setting. Alexa will establish a four-digit PIN number that you must include when ordering.
Manage Your Privacy
Alexa keeps track of your voice commands. However, there is an easy way to change that, if you prefer. Amazon lets you opt-out and delete voice recordings, which you can do on within the Alexa app or use the command "Alexa, delete everything I said today."