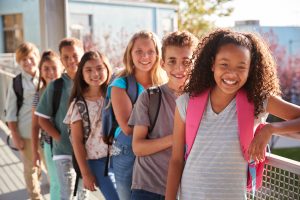 The list is out on the best schools in Texas, and while Grand Oaks Elementary and Grand Lakes Junior High were too new to be included, the other two schools serving Amira fared impressively. In addition, Tomball ISD has been named the Best School District in Harris County and the district with the best teachers in Harris County.
Serving students in fifth and sixth grades, Tomball Intermediate School was just shy of being ranked among the top 10 percent of Texas middle schools, coming in at No. 231 out of 2,223 middle schools considered. The school was awarded an overall "A" and boasts an impressive student-teacher ratio of 14 to 1. Tomball Intermediate has a strong music program, offering sixth grade choir, band and orchestra, and students show high proficiency on state-mandated tests.
In 2019 — the last year the Texas Education Agency rated Texas schools — Tomball Intermediate earned distinctions for English language arts/reading, math, science, social studies, postsecondary readiness and top 25 percent for comparative academic growth and closing the gaps.
Tomball High School also rated highly on the new report, receiving an overall grade of "A-" and landing at No. 283 out of the 1,773 Texas high schools included in the study. Students excel in the safe and secure environment the high school provides, benefiting from a challenging curriculum that includes 30 Pre-AP and AP classes and 11 dual credit courses. The high school boasts a full athletic program for both boys and girls and a variety of clubs that allow students to explore interests ranging from foreign languages to chess. Nearly 90 percent of graduating seniors go on to a two- or four-year college program.
Niche compiles its annual report cards after examining data from dozens of public data sources such as the U.S. Department of Education and Common Core Data from the National Center for Education Statistics. Parent and student reviews are also considered.