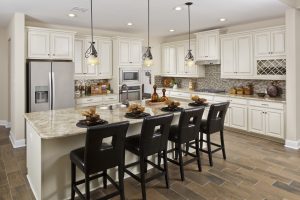 We think it's safe to say that we learned a lot about our kitchens last year. We certainly spent enough time in them. That knowledge changed the way we think about the heart of the home and what we need to make them optimal. Builders have responded by changing things up. Here are the trends we are most likely to see.
Let the Sunshine In
In the past, kitchen windows have been on the small side but this year, more kitchens will feature large, picture windows that flood the area with natural light. The extra light will help kitchens feel brighter and should boost your mood while cooking.
More Quartz, Less Granite
Last year, we wanted more than clean kitchen counters, we wanted counters that were easy to disinfect. Expect to see more quartz countertops. Unlike marble, quartz isn't porous, so it doesn't stain as easily, cleans up well and is easy to disinfect.
Hidden Appliances
Kitchens are now multipurpose areas, so it's not surprising that the latest trend is to hide all of your appliances. Instead of stainless-steel, builders will offer fronts that mimic your cabinets. Even your oven hood can be clad in the same tile as your backsplash or made to look like your cabinets. This streamlined look will most likely be offered as an upgrade by your builder
Smart Kitchens
Homes got smarter a few years ago but with the exception of the random smart coffee pot, kitchens stayed old school. Look for refrigerators that tell you when you are out of something, Amazon Show personal assistants, touchless faucets, smart lights, smart outlets and more.
Longer, Larger Islands
Kitchen islands now are more than prep stations. They serve as homework centers, mini offices and casual dining centers — sometimes all at once. Look for homes with large islands, double islands and islands equipped with attached dining tables.
Less Open Concept
Open concept floor plans are still in, but homeowners want a little more separation between sinks full of dirty dishes and the family room. Look for high wrap-around breakfast bars or archways that separate them from living areas. Barn doors that close the kitchen off from living areas will also be popular.
Cabinets, Cabinets, Cabinets
Cabinets are getting makeovers. The need for a cheery kitchen has become paramount, so look for pops of color. Upper cabinets will replace open shelves, glass doors will make a comeback and homeowners will ditch the hardware in favor of cabinets with grab-able notches.
Walls, Ceilings and Sinks Make a Statement
Statement walls are no longer for bedrooms and baths. While bedrooms often feature a single painted wall, kitchens will focus on tile, shiplap and marble. Sinks also will transform from porcelain and stainless steel to matte metal finishes or even dark materials that hide dirt and stains.
Amira offers numerous floor plans from award-winning builders Perry Homes and Beazer Homes. Visit their model homes to see new trends in home design.