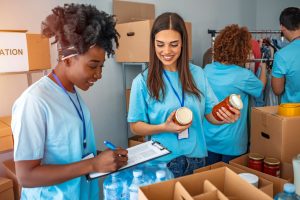 And while The Canned Food Information Council gave the designation to shed light on the history of canning and dispel any thoughts that canned food isn't as nutritious as fresh food, we're taking our observations a bit further this year by holding a food drive.
We'll be collecting canned goods and other non-perishables the entire month, with eight community drop-off points. Collection boxes will be at The Resort at Amira, 20508 Mueschke Road, and at Amira's seven model homes. Hours are 10 a.m. to 6 p.m. Monday through Saturday and noon to 6 p.m. Sunday.
Donations will go to the Houston Food Bank, which serves 18 southeast Texas counties. The food bank has been strained during the pandemic, with requests for food nearly doubled. The organization is distributing an estimated 800,000 pounds of food each day. Pre-pandemic, daily distribution totals were around 450,000 pounds.
Fun Facts About Canned Food
We have Napoleon Bonaparte to thank for canned food. Prior to canning, food was preserved by salting, drying, sugaring and smoking. Napoleon wanted a better way and created a contest that challenged scientists to devise a new way to preserve food. French inventor Nicholas Appert developed the process of hermetically sealing and heat-sterilizing food storage containers.
Tin was introduced as an alternative canning material in 1810 and a canned goods boom happened in 1873 led by companies Campbell, Heinz and Borden.
In 1903, Alexander Kerr invented the wide-mouth canning jar and later patented the famous two-piece lid. And people began enjoying a can of Pepsi in 1948 for 10 cents a can. (Coke wasn't canned until 1960.)
Stop by Amira throughout February to drop off your donations. We — along with all of those in need — appreciate your generosity.