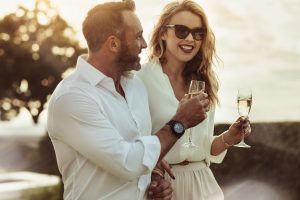 What do Amira residents do when they want to enjoy a romantic dinner at home? Many turn to their fabulous new kitchens, but who wants to cook on Valentine's Day? Not to worry. There is a lot of fine dining in the Tomball area. And the best part? You can get it delivered.
425 W Main Street
Tomball, TX
832-702-9031
Known for its top-shelf whiskies, bourbons and mixed drinks, Bonfire Grill can also serve up the romantic dinner of your dreams. Their menu includes spiced Gulf crab cakes, brown butter sage fettuccine, ribeye and more. Get the bourbon crème brûlée
to share and don't forget to order up cocktails, as well.
28301 TX-249
Tomball, TX 77375
281-290-6676
Is there anything more romantic than an Italian dinner? We don't think so. Gianna Italian Kitchen has a delectable to-go menu serving up pasta, chicken, beef, sausage and more. Start with the calamari then segway into fettuccine alfredo or cannelloni di mare.
28900 SH 249
Tomball, TX 77375
281-290-9200
Aged beef, scrumptious seafood and pecan cheesecake? Yes, please! Splurge on the porterhouse steak or dive into the ahi tuna for a perfectly romantic meal.
200 N. Elm Street
Tomball, TX 77375
832-761-0670
What would Valentine's Day be without chocolate? And if you'd like a side of barbecue with that, this is the perfect place. Load up on brisket, chicken or pork followed by their heavenly chocolate bread pudding.
The Refuge Steak House & Bourbon Bar
8540 Creekside Forest Drive
Spring, TX 77375
832-559-8541
Wishing you could dine at The Refuge? Why not have The Refuge come to you instead? In addition to ordering from a generous to-go menu including fried green tomatoes, pan-seared snapper and white chocolate cake, get one of their curated mixology boxes and create a specialty cocktail.
24002 Northwest Freeway
Cypress, TX 77429
832-220-7200
Trust Marvino's to create a delicious three-course Valentine's Day menu to go. Available for $79 per person, the feast includes appetizers, entrees and desserts. We have our eye on the lobster rose linguini and the Grand Marnier-filled strawberries.