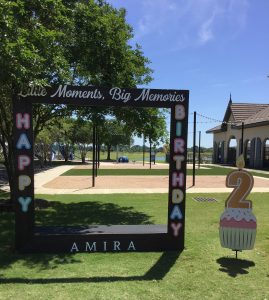 There are a lot of important happenings in May — birthdays, moments in history — heck, even The Rock celebrates another year around the sun this month.
But the biggest May to-do has to be our very own birthday — Amira is 2!
We're excited as can be to celebrate another year and watch as more and more people find their home in our friendly community. We're also happy to share our birthday month with these fine folks — you may have even heard of a few:
Directors
Wes Anderson
George Lucas
Sofia Coppola
Frank Capra
Actors
Dwayne Johnson
Christine Baranski
George Clooney
Kenan Thompson
Robert Pattinson
Pierce Brosnan
Tina Fey
Mr. T
Mike Myers
Ian McKellen
Octavia Spencer
Helena Bonham Carter
Carey Mulligan
Clint Eastwood
Brooke Shields
Colin Farrell
Singers
Adele
Enrique Iglesias
Billy Joel
Bono
Stevie Wonder
Janet Jackson
George Strait
Pete Townshend
Cher
Bob Dylan
Stevie Nicks
Lenny Kravitz
Idina Menzel
Wynonna Judd
Composers
Johannes Brahms
Irving Berlin
Richard Wagner
Other Famous Names
Sigmund Freud
Florence Nightingale
Pope John Paul II
Arthur Conan Doyle
Ralph Waldo Emerson
Walt Whitman
But May's accomplishments don't end with who was born this month. There are some interesting moments in history and fun facts that happened during May:
Blue Jeans were officially invented in May of 1873 after Levi Strauss and Jacob Davis obtained a patent for the pants on May 20th.
Alan Shepard became the first American in space, piloting Freedom 7 for 15 minutes and 28 seconds on May 5, 1961. His flight reached an altitude of 116 miles above earth.
Explorers Meriwether Lewis and William Clark left St. Lewis on May 14, 1804, to explore the northwest. Their 6,000-mile journey from St. Louis to the Pacific coast of Oregon and back took more than two years.
May was a big month for aviation history. Twenty-five-year-old Charles Lindbergh left Long Island on May 20, 1927, to fly the Spirit of St. Louis across the Atlantic, landing in Paris 33 hours late, accomplishing the first solo, non-stop flight from New York City to Paris. On the same day five years later, Amelia Earhart became the first woman to fly solo across the Atlantic, leaving Newfoundland, Canada for a 2,026-mile flight to near Londonderry, Ireland. It took about 13 hours.
Clara Barton founded the America Red Cross on May 21, 1881.
Inventor Samuel Morse sent the first official telegraph message on May 24, 1844 from Washington, D.C., to Baltimore. The message? "What hath God wrought?"
The Golden Gate Bridge in San Francisco officially opened May 27, 1937, with 200,000 people strolling across it.
Don't forget to take a picture in the Amira frame and tag us on Instagram and Facebook using #PictureYourselfinAmira !