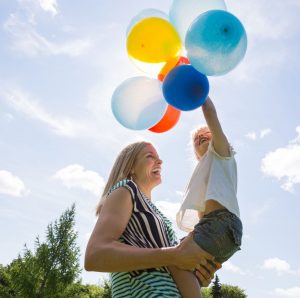 Stumped for birthday party ideas? Why not throw open the doors and celebrate your child's birthday outdoors? Outdoor parties are convenient, less expensive than renting a venue and allow kids to burn off the sugar rush while parents sit in the shade. Here are some tips for planning the ultimate outdoor celebration.
Where to Celebrate
Outdoor celebrations can take place anywhere. Our residents celebrate at our resort-style pool, in the park, on the playground and in their beautiful backyards. You may need to plan differently depending on the location, such as reserving picnic tables for a party in the park, providing extra towels for a pool party or putting a fence around your prized hydrangeas.
Outdoor Considerations
Summer parties can get hot, especially in Texas. There's also the matter of bugs. To keep your guests comfortable, consider providing umbrellas, making sunscreen and bug spray available, installing misters for backyard parties, using food tents to keep bugs out of the party food and offering snow cones.
Age-Appropriate
Whether you are celebrating indoors or outdoors your party should be age-appropriate. For toddlers, that could be as simple as letting the kids play with your child's play equipment, setting up a kiddie pool or sandbox or just letting them eat cake. Older children will love themed parties while teens will probably want to handle things themselves.
Party Themes
Some kids just want a to incorporate their favorite Disney Princess or superhero into the decorations, and that's okay. Others might love an outdoor theme. An obvious choice would be a camping theme complete with sleeping bag races and s'mores. You could also set up arts and craft stations, bring in a local astronomy buff for a stargazing party or set up an obstacle course for a Ninja birthday party. Check out these other great ideas.
Party Games
Parties need games. How many you have depends on the age of your child but three to five of them is usually sufficient. Tug-of-war, sack races, Frisbee tosses and scavenger hunts are all fun. Try to match the party theme to the games. For a pirate party, you can host a treasure hunt and for a science party, teach the kids how to make their own bubbles or slime. Here are some other ideas.
Party Food
When it comes to outdoor parties and food, you can go a number of ways. Grilling hot dogs and burgers will make everyone happy and go well with a camping theme. Bags of popcorn would be great for a movie-under-the-stars theme. Finger food is a great go-to because it requires less preparation and you don't have to worry about the wind blowing the plates off the table. Put out platters of fruit, bowls of crackers, mini burgers, pizza and cookies. Have a cooler handy full of cold drinks.