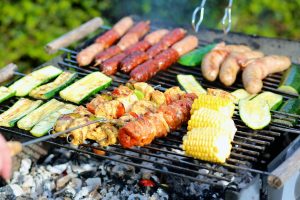 Texas state parks and national parks are slowly allowing overnight camping. Great news — if you can get a reservation.  But there's no need to wait to enjoy the fun of sleeping under the stars. Your backyard is open, and you hold the only reservation.  With the right preparation, a backyard campout can be just as fun as camping in the woods. And you start with a big bonus — no long drive. Here are a few tips to make sure your campers are happy.
Do it right
No skimping on the gear — pretend you don't have a house just a few feet away. Pull out the tent, the sleeping bags, blankets, pillows, flashlights and everything else you would normally take camping. The only reason you're allowed to "cheat" and go inside is for a potty break. The one thing you don't bring? Your laptop or phone (unless you set it aside for an emergency).
The yummy part
Cooking over a fire is an ingredient that is hard to replicate. It's one of the reasons we love camping so much. So light up the grill — or better yet — put a grate over your fire pit. Cook burgers, steaks, hot dogs or whatever you typically prepare when camping. Pack up all necessary ingredients in a cooler — remember, you're pretending the house isn't there. Get a bag of marshmallows and sticks for roasting them. Add graham crackers and chocolate bars for s'mores. Buy popcorn that can be cooked over a fire. Make sure to ask the kids what they might want on their camp out. And put them to work so you're cooking together.
Need a little culinary camping inspiration? Here are dozens of ideas for foil packets, cast-iron skillet dishes and more. https://www.countryliving.com/food-drinks/g2444/campfire-recipes/
Staying active
Boredom has no place at a campsite — even if that campsite is your backyard. Part of your time pre-evening will be spent setting up camp, but after that, plan a few activities everyone might enjoy. Go on a bug hunt in the backyard. Find interesting leaves and do a nature rubbing by putting it on a flat surface, top it with a piece of paper and coloring over with a crayon. Pick flowers and/or leaves to press. Play horseshoes, ring toss or croquet. Toss a Frisbee. After dark, sit around the fire pit to roast marshmallows and tell stories or sing songs. No fire pit? Use a portable grill. Or ditch the "campfire" altogether and watch for shooting stars and see if you can spot constellations. Read a book by flashlight. Glow sticks are sure to be a hit, so stock up and get creative — Glow Stick Tic-Tac-Toe or Hopscotch perhaps? Here are some cute ideas. https://onelittleproject.com/glow-stick-ideas/
Whatever you decide, it's sure to create special memories. Because camping isn't really about where you pitch your tent. It's about being together.