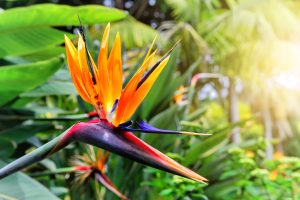 Can't make it to your favorite tropical resort this year? Bring the resort to your backyard with tropical plants.
Houston's warm, humid climate is perfect for many species of tropical plants that thrive in summer heat. They add a splash of color to any garden and look beautiful on patios or around pools. Add soft lighting, hang a hammock and add a water feature to create the ultimate resort-themed backyard.
Here are tips for using tropical plants.
Consider Containers
As opposed to true tropical destinations, Houston is hot and humid in the summer but not so much in the winter. Cold temperatures will kill any tropical plants in your garden. The solution is to keep them in containers. Just give the roots plenty of room to spread out. Enjoy them on the patio in the summer. Bring them inside for the winter.
Full Sun, Lots of Water
Tropical plants are sun-loving, so make sure you place them where the sun constantly shines. They also love water. Keep them hydrated with drip irrigation or put your pots under misters. They will reward you with lush leaves and large, colorful blossoms.
Feed Them Well
Tropical plants are used to a special diet so make sure they are fertilized. Some gardening centers offer special soil or fertilizer for certain tropical plants such as hibiscus. Otherwise, find a nitrogen-rich fertilizer.
Go Big on Color
When it comes to creating a tropical-themed backyard, you can never have too much color. Think deep reds, neon pinks and bright orange. Use plants with large, green, variegated leaves such as palms, bamboo and banana trees as backdrops.
What to Plant
Some tropical plants grow better in Houston than others. Following is a list of easy to grow plants that will thrive in Houston. You can find a more extensive discussion here.
Alimanda
One of the many tropical plants in the ginger family, this species has red or orange flowers and can be grown in partial shade, making it an excellent patio plant.
'Alphonse Karr' Bamboo
A clumping bamboo that tolerates cold weather making it a great year-round backdrop for any plant in your garden. It also grows well in containers.
Bird of Paradise
Nothing says tropical like the Bird of Paradise. Named for their beautiful crane-like orange, blue and white flowers, these plants look delicate but thrive in the Houston heat.
Chinese Hibiscus
Hibiscus plants tend to grow well in Houston and are very colorful. Chinese Hibiscus is very hardy and comes in a variety of colors. They are sure to remind you of your last Hawaiian vacation.
Elephant Ear
Elephant ear plants can grow up to 6 feet tall. Their soft, lush leaves scream tropical. They grow well with ginger plants such as Alimanda and look fantastic planted around ponds and other water features.
Mandevilla
Native to Central and South America, Mandevilla can be grown as a climbing plant or a shrub. The flowers are a showy pink. Mandevilla is a great container plant that does not need full sunlight to thrive.