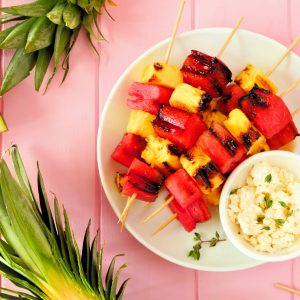 Grilled food, cocktails, music and lawn games — summer is the perfect time to throw a backyard shindig. While you could go with an old-fashioned barbecue, why not take your guests on a tropical vacation and throw a tiki party or luau instead? With just a little planning and our tips, your paradise patio party will be welcoming guests in no time.
Start with Decorations
Just because you don't have a beach or ocean nearby doesn't mean you can't set the mood with tropical decorations. Choose pinks, blues, greens and yellows. If you are planning to set up a bar or tables, wrap them in raffia skirts. Don't have a tiki bar? This stand-up bar from Oriental Trading Company screams island time. Put tropical flowers on the table, add some tiki torches if you're planning for the party to last into the night and don't forget masks, pineapples and carboard surfboards. If kids are coming, fill kiddie pools with water and sand. Want to make sure your guests have a souvenir? Set up a photo booth. It can be as simple as an arrangement of tropical plants or as elaborate as this Shindigz Table Top Tikki Hut.
Get Guests in the Spirit
Ask guests to wear Hawaiian shirts or their favorite vacation clothes. If you have a pool, make sure they bring swimsuits. Greet them with leis. Provide some grass skirts for kids (or adventurous adults) for impromptu hula lessons. Create a tropical music playlist for them to enjoy while chowing down.
Add Cocktails
A fruity, frosty cocktail with a cute umbrella is just what your tropical party needs. Stir up some Bahama Mamas or lay in a supply of rum for Jungle Birds and Blue Hawaiians. Mojitos will transport your guests to Cuba. Got a blender and an outlet? These Banana Daiquiris will take everyone to the Caribbean. Make sure to have mocktails on hand for young guests or designated drivers. Hit the dollar store for tropical-themed glassware.
Fire Up the Grill
As tempting as it might be to dig a hole in your backyard to roast a whole pig, it's probably easier to fire up your grill. Grilled meat and seafood are a staple of tropical islands everywhere. Try this tropical sea bass with salsa for an elegant meal. Throw some shrimp on the barbie. Serving a crowd? Fish tacos or kebobs are easy to lay out on a buffet table. If you are set on pork, why not try Grilled Pork with Macadamia Rice? And don't forget about fruit. Grilled pineapple is a must for a tropical party, but you can grill almost anything, including bananas. Here are some great tips for cooking fruit to perfection. Desserts can be as simple as popsicles or as complex as this Caribbean Coconut Rum Cake.
Turn Your Yard into an Event Lawn
Is it really a party without games? Some of the most popular are simply classic games on steroids — think giant checkers, tic tac toe, Jenga or Connect Four. Test your aim with cornhole, ladder toss or horseshoes. If you really want to immerse guests in your theme, turn regular games into tropical ones. Hide coconuts around the yard for a tropical scavenger hunt. Try out this Tiki Toss Hook and Ring Game. Hula hoops and giant beach balls turn your backyard into a resort. For more fun, buy this hot coals aisle runner and use chalk to set up an island-themed hopscotch game.
Check Out Amira's Backyards
The perfect party starts with the perfect backyard. Stop by Amira and check out the patios on our model homes for ideas. In addition to extending your patio, you can add built-in grills, outlets for speakers and outdoor fireplaces.