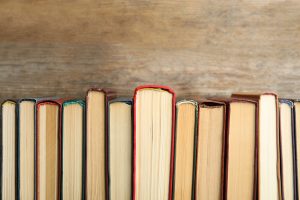 Summer is here, which means vacations are near. And what goes better with sunshine and lounging by the pool than a good book? If you already have a massive "to be read" pile, your summer reading list is probably already covered. If not, here are some tips for building a great summer reading list. We've also included a few books at the top of Amira residents' poolside reads.
Check the Lists
Most newspapers publish an annual summer book list that includes critics' favorites, fun reads and books sure to be talked about over margaritas. Oprah puts out a great reading list. Good Reads can help you find your new favorite book. Another good place to look is The New York Times Best Sellers list.
Ask at the Bookstore
Your local bookshop is staffed by people who love to read and do so voraciously. They also talk to customers who love to read. Just let them know what kind of books you like, and they will point you in the right direction.
Ask a Friend or Family Member
If you know a bookworm — and everyone does — ask them what they are reading. You are sure to get a lot of recommendations. If your friend is dying to read a book they've heard about, suggest reading it together. That way you can talk about it while catching some rays.
Look for New Releases
Got a favorite author? There's a good chance they have a new book out this summer. If not, they may have published one last winter that you didn't have time for.
Revisit Old Favorites
Nothing says you have to read something new. Curling up with a favorite book is like spending time with an old friend. In fact, putting one or two favorites on your list can be a good thing if you are a busy parent who has a hard time putting books down.
Our Favorite Summer Reads
It Had to Be You by Georgia Clark
Liv and Eliot Goldenhorn run a wedding planning service in New York but when Eliot dies and leaves his half of the business to his younger girlfriend, Liv has to figure out how to work with someone with a very different personality.
The Last Thing He Told Me by Laura Dave
Hannah Hall's husband has disappeared leaving her and her stepdaughter to solve the mystery of who Owen Michaels really is and where he has gotten into.
A Special Place for Women by Laura Hankin
A witty book about an exclusive club for women and the journalist determined to join their ranks.
The Charmed Wife by Olga Grushin
A re-telling of the Cinderella story that asks what happens after the shoe fits.
People We Meet on Vacation by Emily Henry
If you're on vacation, why not read a love story about two people trying to repair their relationship?
Greenlights by Matthew McConaughey
An engaging yet honest autobiography about one of our favorite Texans. If you love audiobooks, you want to get this one as McConaughey himself narrates.
Project Hail Mary by Andy Weir
The author of The Martian is back with the tale of a man who awakens in a stasis pod with two dead astronauts and no memory.
Questland By Carrie Vaughn
If you loved Westworld you will love this tale of a literature professor tasked with getting a fantasy theme park back under control.
Later by Stephen King
An unusual child grows into an unusual adult who must help the police find a killer reaching out from beyond the grave.