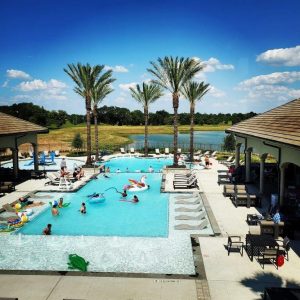 Planning a full day of poolside fun? Make sure you have everything you need so you don't have to cut the day short.  Packing for the pool requires thinking ahead and a very large tote bag. Here's a list of essentials you don't want to leave at home.
The Basics
In a nutshell, you will need things to keep from getting sunburn, hungry, bored or thirsty. Here's a quick checklist you can keep in your bag to ensure everything is packed.
Extra towels
Goggles
Swim diapers
Pool toys
Floaties
Sunscreen
Snacks
Insulated cups, flasks or water bottles
Bag for wet swimsuits
Extra clothes
Hats
Sunglasses
Cover ups for the entire family
A book for you
Hungry Tummies Need Poolside Yummies.
Take snacks with you but choose wisely — you don't want anything that can melt or that will be ruined if it gets wet (no soggy crackers!). Fresh fruit is always a good choice — keeping it chilled will make it all the more refreshing. Other quick eats include nuts, granola bars and dried fruit. Pack the cooler with water, string cheese, single-serve yogurt and sliced celery or bell pepper with a small container of dip or hummus. Stay away from salty foods — that will only make you thirsty. Bring water but also fresh fruit juice. (For extra fun whip up some mocktails). Super Healthy Kids offers some great ideas, and you can never go wrong with recipes from The Kitchen. Get packing — your day at the pool awaits. For Amira residents, it's a day at the resort — The Resort at Amira!
Entertaining Pool Games
Kids are pretty good at entertaining themselves when it comes to the pool but occasionally even their imaginations flag. Bring along diving rings, beach balls, floating basketball games and other toys. If you don't want to spend a lot of dough, plastic ping pong balls are fun to chase after and pennies are fun to dive for. PureWow put together a list of 25 amazing pool games you might want to check out. Don't want to carry a bunch of toys? Plan to play these Red Tricycle prop-free games. Here is how to play one of our favorite pool games – F.I.S.H. According to Red Tricycle, "Similar to P.I.G. in basketball, the first player in F.I.S.H. is the leader, and the other players must follow exactly what the leader does. Jump from the side, do a certain dive, perform a choreographed pool number—whatever the task, the players must follow it or be given a letter from F.I.S.H. The first player to spell F.I.S.H loses the game."
Going to a public pool? Be sure to check what you are allowed to bring.