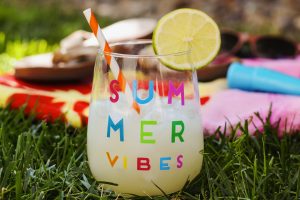 Whether you like them shaken, stirred or blended, nothing says vacation like lounging around with an icy, fancy cocktail. Fancy drinks don't have to be limited to adults.
Mocktails are kid-friendly, non-alcoholic drinks that go beyond simple smoothies and lemonade. They are also a great substitute if pool rules say no alcohol allowed.
Looking to up your mocktail game? Here are tips for making non-alcoholic drinks everyone will love, plus three Amira-themed drinks you can try at home. (We also tell you how to make the mocktail a cocktail for an adult drink).
Ditch the Mixes
As tempting as it maybe to just pull out the mixers, leave them on the shelf. Mixers like margarita bases usually have a lot of sugar and preservatives. They can feel heavy and sweet rather than light and refreshing. Stock ginger beers, club sodas, real fruit and herbs instead.
Buy Bar Equipment
If you think you'll be making a lot of mocktails, invest in simple bar equipment. Using a shaker will impress the kids and make you feel like a true mixologist. A muddler is used to — you guessed it — muddle fruits and herbs into your liquid ingredients to intensify the flavor.
Balance is Everything
Approach creating mocktails the way bartenders approach making cocktails. Balance sweet, sour and bitter flavors. If you don't, your mocktail will probably taste too sweet and too much like a kid drink. Try adding sour juices like cranberry or grapefruit to balance out sweet sodas. Shrubs and switchels (sour non-alcoholic sodas) are also fantastic adds.
Go Seasonal
If you like hitting farmers markets, stock up on seasonal fruits and herbs. These add color and vibrancy to your mocktails rivaling any tropical resort cocktail. Muddled herbs are particularly refreshing and add an adult flavor you'll love. We suggest mint and basil for the summer months.
Get Out the Fancy Glasses
Part of what makes cocktails fun are the glasses. If you are serving mocktails at home, get out your favorite highballs, coupes and martini glasses. If you are taking them to the pool, hit the dollar store where you will discover any number of fancy plastic glasses.
Garnish, Garnish, Garnish
Garnishes make your mocktails special. Dip your glass in colored sugar, add a slice of lime or orange, make a bouquet of herbs. For kids, add colorful straws and parasols — anything that makes you think of a resort-style drink.
Amira Drinks You'll Love
Now that you know how to make them, try these mocktail recipes created by former New York bartender and mixologist Erin Chong. Our residents enjoy mixing up the non-alcoholic versions for a day at The Resort at Amira.
Recipes
Peach Derby Slush
4 cups frozen peaches
3 cups coconut water
1/2 cup simple syrup
1/2 cup lime juice
1/4 cup fresh mint
Pour ingredients into a blender, and blend until smooth. Add more liquid if necessary. Pour into glasses and garnish with a mint sprig. To make this drink a cocktail, add 2 ounces of light rum per glass. Serves 4.
Stirrup Trouble Punch 
4 cups limeade
1 1/2 cups grapefruit juice
1/2 cup simple syrup
1 tablespoon fresh thyme (optional)
Club soda
Pour juices, simple syrup, and thyme into mixing glass, add ice, stir, serve in glasses over ice. Top with club soda, garnish with a lime wedge, or thyme sprig. To make this drink a cocktail, add 1 1/2 ounces of blanco or reposado tequila per glass. Serves 4.
Spur of The Moment 
2 ounces pineapple coconut juice
2 ounces coconut water
1/2 ounce lime juice
1/4 ounce simple syrup
Ginger ale (optional)
Pour juices and simple syrup in a shaker, add ice, shake, and strain into a glass with ice. Top with ginger ale. Garnish with a lime wedge. To make this drink a cocktail, add 2 ounces of vodka.  Serves 1.